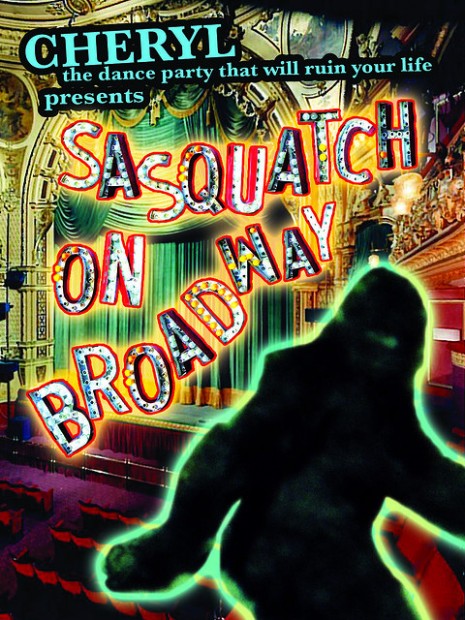 CHERYL (the dance party that will ruin your life) presents: SASQUATCH ON BROADWAY
The Abominable Snowman, the Sasquatch, the Loch Ness monster, and the Chupacabra. In your grill. On the marquee. Yes, you saw the Yeti at the M&M's store in Times Square. Deal with it. MYTHICAL CREATURES IN THE PUBLIC ARENA.
Grab your sequined top hat and join Tina Yothers, unicorns, mermaids, and leprechauns in a kick line on the dance floor. Bar specials, including $5 absinthe shots, will inspire you to work those jazz hands all night long. DJ Social Justice and special guest DJ Lloydski of Da Hardy Boyz spin an eclectic dance set including electropop, disco, new wave, old school hip hop, and Party in the USA by Miley Cyrus on loop for 4 hours straight.
Join us at South Brooklyn's #1 cat- and sasquatch-themed Broadway disco bloodbath.
DJ Social Justice spins from 10:30-12
DJ Lloydski spins from 12-2
DJ Owlpuffs from 2-4
Saturday December 12, 2009 10:30pm-4:00am,
at LITTLEFIELD
622 DeGraw St. (between 3rd and 4th Ave), Brooklyn
R Train to Union St., or any train to Atlantic-Pacific
$5 cover