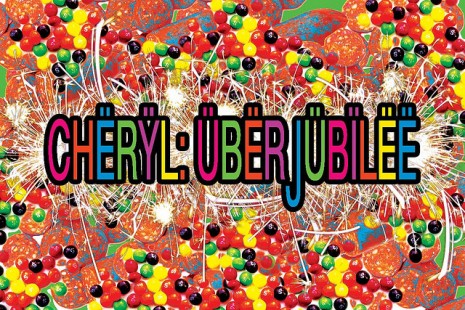 On THURSDAY, August 20, 2009, from 10pm—4am, South Brooklyn's most insane disco bloodbath, aka CHERYL: the dance party that will ruin your life, presents ÜBËRJÜBÏLËË at The Bell House in Gowanus, Brooklyn.
This is our ONE YEAR ANNIVERSARY. Come help us celebrate a year of alcoholic community engagement, DANCE FLOOR EUPHORIA, rivers of FAKE BLOOD, WIGS on FIRE, 23-inch SHOULDER PADS, permanent GLITTER RASH, and CATS. It's our birthday – we are going to explode in a puddle of skittles and pepperoni.
Think polychromatic. Drunken clowns. Crayola cocktails. The most super psycho birthday party you have ever attended. The largest game of human Twister ever conceived and executed in the United States. CONFETTI DRAMA. Frosting face masks. Complimentary clown makeovers. CHERYL's favorite flavor of Party Cake (Steamy Apricot Jazzcastle with rivulets of Sasquatch Creams) for all! Shugah PUFF UNITY sessions on the dance floor.