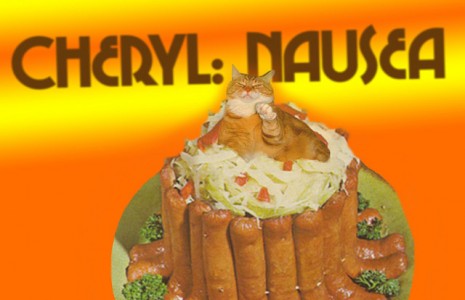 WATCH THE VIDEO NOW:
http://www.vimeo.com/9961275
CHERYL has arranged for a wormhole to appear in your general vicinity at approximately 10:30pm on Saturday night. In order to conjure it, you must watch an episode of M*A*S*H. Look for a shimmer in the shape Alan Alda sometime after the first commercial break and step in carefully.
Emerge through Karen Carpenter's private dressing room mirror circa 1972. Suddenly you are dressed in your most FORMAL POLYESTER EVENING WEAR in the hot colors of the decade: brown, taupe, peach, tan, salmon, and lots and lots of orange. You step out into the night with your hair piled high, adorned by tiny weightless crystals. Your BRONZE MAKEUP looks fantastic—just like the time you jetted to Acapulco with Bert and Doris.
You arrive at the BELL HOUSE and are immediately greeted by an individual of extreme tact and delicate fashion sense, with impeccable disco dance moves. You drop your keys into a fishbowl as you step on the dance floor to join your fellow revelers. There are toupees, dachshunds, plaid and paisley. There is scotch and Newport Menthols. There are VIPs with UTIs, Quaaludes, and Pete Rose of the Cincinnati Reds. There is a basket of bank lollipops. Someone is inexplicably watching "Barry Lyndon" on a portable black-and-white TV in the corner.
You can't stop Hustling in synchronized dance step. You can't stop laughing. You want MORE. You stumble towards the bar. CHERYL is waiting there for you with a tube of frosted lipstick. THERE IS NO ESCAPE. You have come down with a case of NAUSEA.
DJ DSO plays DISCO for the POWER GAYS until midnight when UNEMPLOYED LLOYD takes over with an eclectic DANCE DANCE DANCE set that will simultaneously melt your face and make you take your pants off. DJ Owlpuffs will wrap it up with a late night dance floor suicide set that includes the best HIGH ENERGY dance music that you have ever heard in your entire LIFE. Trust us. We love you.
***$5 COVER until MIDNIGHT***
***$10 at the door after midnight***
20 March, 2010
The Bell House
Brooklyn, NY