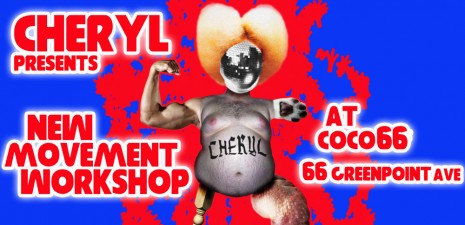 As part of our "END CHERYL-WITHDRAWAL SYNDROME NOW" campaign, the first Saturday of each month, we invite you to Coco66 in Greenpoint for an evening of dance delirium – our aim is to keep you CHERYLing as much as possible.
We'll be developing new dance moves, teaching old favorites, and learning new stuff *from YOU* (all while taking part in the usual CHERYL-style dance party insanity).
As for attire: wear something that makes you scream. NMW is themeless, yet still very CHERYL.
We'll be showcasing a rotating cast of great DJs throughout this FREE series, so BE THERE. (yeah, you have to come.)April 3 features DJ Jay Stacheroni (Particularly Random, Black Label/Chicken Hut), DJ Owlpuffs (Big CHERYL and the Children's Beach Party at Kingsborough Community College), DJ Social Justice (Pelican Bay Supermaximum Security Prison), and DJ ProLIFE (Easter Pimps)
Also, a news crew from RAI (the BBC of Italy) will be at the party for a little while shooting the insanity as part of a story on CHERYL. Now is the time to realize your dream of dancing on Italian national television!!! We're actually not kidding about this.
And as always, stay tuned for more info on our next themed BIG CHERYL party at the Bell House!
Free admission
April 3, 2010
11pm-4am
Coco 66
Brooklyn, NY