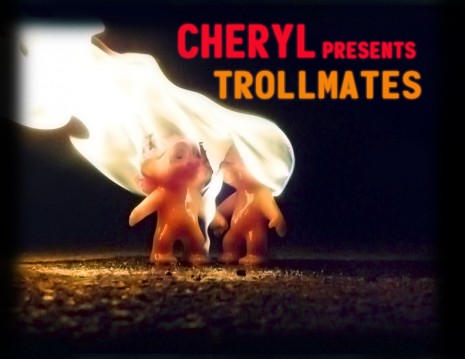 CHERYL presents TROLLMATES
WATCH THE VIDEO NOW!
http://www.vimeo.com/12343284
Look into our strangely geometric eyes. Touch our jewels. The drapes don't match the carpet because we lack genitalia. Our fixed joints won't prevent us from dancing ourselves to death. Imagine a world where TROLLS can experience LOVE and HEARTBREAK. Stop laughing. Join us on the Bell House dance floor for South Brooklyn's best troll-and-romance-themed dance party.
Need costume ideas? Did you eat a brain tumor for breakfast? Dress like a troll. DUH. Or dress like a troll on FIRE. Or better yet, dress like an EXOTIC SOUVENIR.
DJ Salubrious Sassafrass spins the best straight-friendly gay HIGH ENERGY dance music that you have ever heard in your entire LIFE from 11pm-1am. That's when DJ Lloydski takes over with an eclectic DANCE DANCE DANCE set that will make you spontaneously combust. Trust us. We love you.
$5 Cover; $10 after Midnight
CHERYL: TROLLMATES
Saturday June 12, 2010
11pm to 4:00am
The Bell House
149 7th St. btw 2nd and 3rd aves
Brooklyn