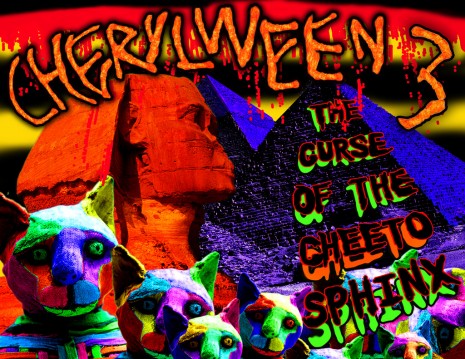 Brush the CHEETO dust off of my tomb and read between the lines. LISTEN to Mr. Peanut and heed this warning.
CHEETO SPHINX is my name. Once CHEETO SPHINX of Upper Torso and Lower Back Abs; Slayer of the Douchebags; Stainer of Fingers; Brain Remover of the masses, and immortal guardian of the Kings and Queens of CHERYL for all time.
In the year of the death of the Great Queen NeferCHEETO, as Egypt became a CHERYL province, I commit myself to eternal dancefloor euphoria. BEWARE, all those who would miss THE DANCE PARTY TO END ALL DANCE PARTIES.
DJ Lloydski and DJ Nick spin a fuzzy mix of freakshack disco electro ethereal skull crush-jemz ALL NIGHT LONG.
Need costume inspiration? Think Nile Delta Burke.
Saturday 10/30/2010
11pm-4am
$5 before midnight, $10 after midnight