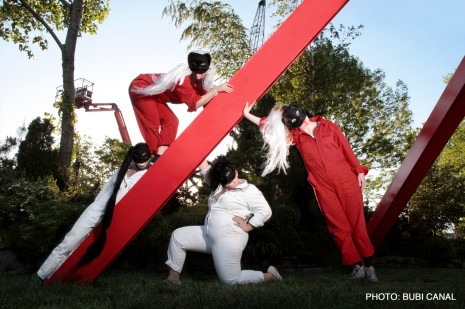 This August, CHERYL takes over Bedford Avenue gallery Rawson Projects for a two-week residency involving pounds of memorabilia, hours of video nostalgia, and the opportunity to participate in our 30th video!
Thursday, August 18 through Sunday August 28, 2011, 1 – 6 pm or by appointment. Gallery opening on Wednesday, August 17, 7 to 9pm.
Hand screen-printed merchandise with CHERYL imagery will be available for purchase on site during CHERYL's residency and afterwards, online at cherylwillruinyourlife.info. CHERYL will be generating all merchandise at the gallery. Visitors to the space will be able to custom order, design, and print their own t-shirts, totes, and anything else they bring in to be printed (underwear, big whites, bare skin), for a sliding scale fee based on item. For questions regarding special orders, please ask a CHERYL, or email us at cherylwillruinyourlife@gmail.com
Have you been coveting that owl mask made of popsicle sticks? That wig of ground beef hair? A burnt troll? Now your favorite costume elements, props, and bloody hair weaves can be yours to take home! CHERYL will be installing a selection of memorabilia from previous videos to disgust and amaze, as well as for purchase upon request. The corresponding videos will be screened in tandem with the installation.
CHERYL will provide impromptu makeovers and on-screen direction to visitors who choose to participate in an ongoing video shoot. The resulting hours of footage will be edited into our next full-scale video, to be released in September 2011.