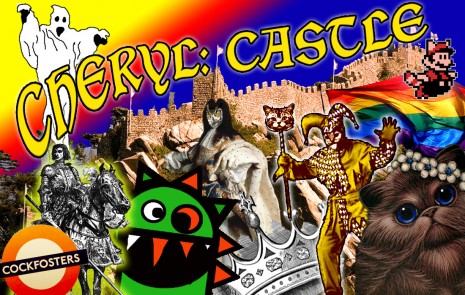 Once upon a time, CHERYL took voyage across the distant sea to EUROPE, a land of castles, foreskin, and very little tap water. EVERYWHERE there were castles, large and small, valiant and gruel, and throngs of castle cats. CHERYL travelled from chateau to villa, from citadel to palace, leaving a trail of glitter and cheap hair across the land. One evening, the crew stumbled upon a very special castle in the heart of the continent, in a country called Go-Go; the castle was resplendent with the heraldic colors of neon puke and cat jizz. Baron von Cockfosters and all the of the castle's mentally-ill inhabitants welcomed the CHERYLs and a grand celebration was held. Ye Olde Queen (the Castle's own gay bar) had a 2-for-1 Malibu and Pineapple drink special in honor of CHERYL's visit. Everyone made merry into the night.
Epilogue:
Come to the Bell House in your finest finery.
Think Armor, Crenelations, DamselsDragonsDungeonsDrawbridges, Moats, Wenches, Turkey Legs, Life Sized Chess, the Plague, Thrones, Jabba the Hut(t), Powdered Wigs, Mud, Powdered Pubes, Bustles, Maestro hair, Stones, Codpieces, Chainmail, Chainletters, Merkins and Sally Kellerman.