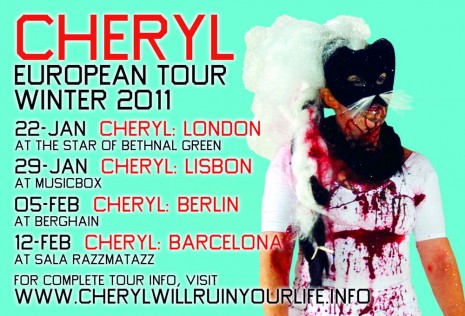 "They had a name for their night: CHERYL. They had a dance: the CHERYL. And they had a look: very CHERYL. " – The New York Times
"There may be no better crowd-pumpers than CHERYL, the four-piece performance-art troupe who lead outrageous marathon masquerades billed as "the dance party that will ruin your life."
– New York Magazine
"…a dizzying train wreck of disco, glitter, fake blood, hair extensions, and feline masks — the scrappy antithesis of Manhattan's posh club scene." – OUT Magazine
CHERYL, professional super-freaks and ambassadors of disco deviancy, come all the way from New York City to bring "The Dance Party That Will Ruin Your Life" to London, Lisbon, Berlin, and Barcelona.
CHERYL's dance parties include high-energy dance music (electro, techno, disco, pop), outrageous costumes, special performances, video projections, and exuberant dance moves. CHERYL revels in the joyous power of dance floor induced euphoria/psychosis.
CHERYL has been producing parties and events in New York City since 2008, bringing their unique brand of fun to thousands of revelers. Voted one of the best dance parties of 2010 by New York Magazine, CHERYL has acquired a dedicated cult following and media attention for their over-the-top happenings. CHERYL is also a performance and video art collective, that has been featured at world renowned art institutions like MoMA, the Whitney Museum of American Art, and MoMA PS1, as well as underground art and performance spaces.
CHERYL: LONDON at The Star of Bethnal Green
Saturday, January 22, 2011
10pm to 2am £4 cover charge early arrivals 9:00-10:00, £5 after 10:00 (party/dancing/DJs do not start until past 10:00)
DJ Nick (CHERYL Resident DJ)
The Duchess Of Pork (Dirtbox, Dick and Fanny, Kimono Krush)
Princess Michael of Cunt (Dirtbox, George & Dragon)
Gibson (Dirtbox, Magnum, Disco Fag Bar)
__________
CHERYL: LISBON at Musicbox
Saturday, January 29, 2011
02:00 to 07:00 (technically Sunday,January 30 since party starts at 02:00)
8€ cover charge / 8€ com oferta de 1 bebida até 2€
DJ Rui Murka
DJ Nick (CHERYL Resident DJ)
__________
CHERYL: BERLIN at the Kantine am Berghain
Saturday, February 5, 2011
00:00 to 08:00 (technically Sunday, February 6 since party starts at midnight)
7€ cover charge
DJ Mark Luke (FAGBASH, Pet Shop Bears, XOO)
DJ Nick (CHERYL resident DJ)
__________
CHERYL: BARCELONA at Sala Razzmatazz (Pop Bar)
Saturday, February 12, 2011
01:00 to 05:45 (technically Sunday, February 13 since party starts at 01:00)
12€ advance at salarazmatazz.com 15€ at the door
DJ Nick (CHERYL Resident DJ)
DJ Mark Luke (FAGBASH, Pet Shop Bears, XOO)