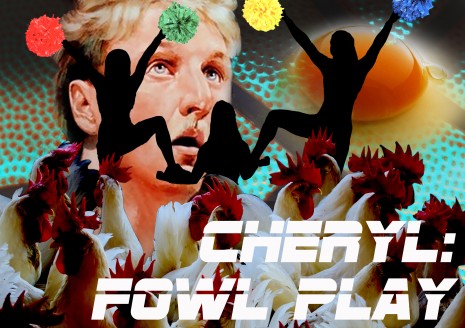 LET'S GET READY TO RUFFFFFFFLE
How funky is your chicken
How funky is your chicken
How loose is your goose
My goose is totally fucking loose
Calling all Jive Turkeys and Spring Chickens…imagine a place where Jock Jamz meet Birds meets Cheer Squad in a frenzy of feathers, eggs and blood. Emerge from your nest and be re-hatched on the basketball court.
Think: odd birds, fit birds, flipping the bird, eggs over easy, LARRY BIRD, the Byrds, Kristie Swanson, Bring It On, Bring It On II: All or Nothing, Bring It On: In It to Win It, Varsity Cockatiels, blond moustaches, the name Ashley, free-range dance offs, chicken-broth-flavored Gatorade, cock straps, super-high ponytails, perma-smiles, and slam ducks.
Translation: this is a party celebrating BASKETBALL, BIRDS AND POMPOMS.
DJs Nick (CHERYL resident DJ) and DSO (Hullabaloo) and Princess Michael of Cunt (Dirtbox – London) spin a mix of high-energy disco, electro and jock jams that will make you want to rip your own face off, mold the flesh into a ball, and slam dunk it into your cocktail.