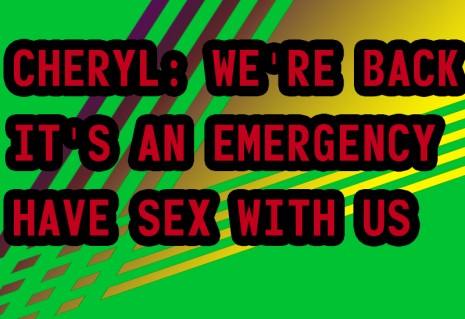 We just got back from a month of jet-setting across Europe during which time:
1. We became totally addicted to partying
2. NONE OF US GOT LAID
So there's only one thing we can do at this point.
THROW AN EMERGENCY PARTY this weekend where the focus is on dancing like a ghoul and meeting other people for the purpose of having face-melting sex with them.
CHERYL: WE'RE BACK IT'S AN EMERGENCY HAVE SEX WITH US
This isn't a big CHERYL party. Our next big CHERYL is on March 12 at the Bell House. The theme for that party is CHERYL: CASTLE. You'd better be there.
No, no. This party Saturday is going to be completely different. We're talking Toni Braxton, turbogrinding, vaseline on tap. Think house party mixed with bath house mixed with cat shelter.
Wear something with a trapdoor in the seat.
$5 cover. So affordable.
11pm to 4am
Public Assembly (the small room – it has a separate entrance – security will guide you there)
PS – CHERYL is the most futuristic post-sexuality mixed party on earth. If you're attracted to people, you'll find someone for sex on Saturday.