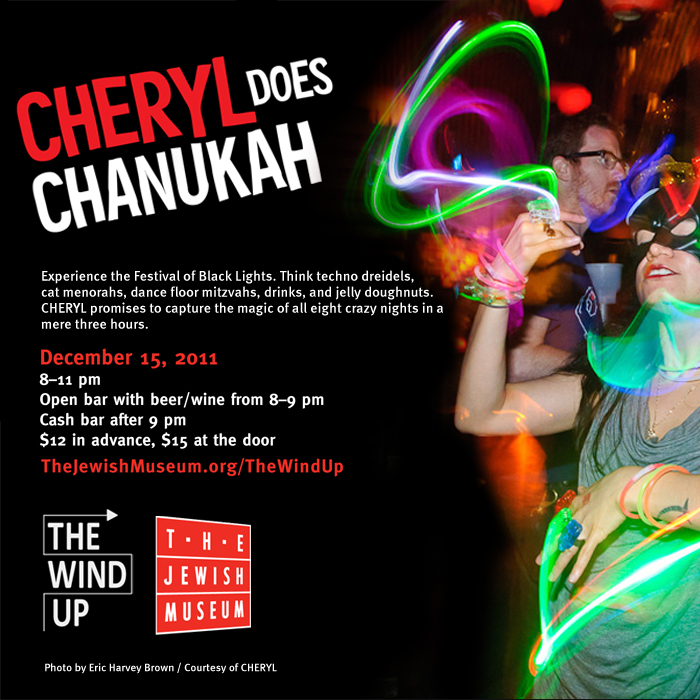 CHERYL does CHANUKAH
Thursday December 15, 2011 – 8pm to 11pm
The Jewish Museum – 1109 Fifth Avenue (at 92nd St), New York, NY
The Jewish Museum hosts CHERYL Does CHANUKAH, a holiday-themed dance party on Thursday, December 15, 2011 from 8 to 11 pm. Open bar with beer and wine from 8 to 9 pm, cash bar from 9 to 11 pm.
This year CHERYL invites you to experience the Festival of Black Lights. Think techno dreidels, cat menorahs, dance floor mitzvahs, drinks, and jelly doughnuts. CHERYL promises to capture the magic of all eight crazy nights in a mere three hours.
DJ Nick (CHERYL Resident DJ) dishes out an amazing mix of electro, new wave, italo and disco to get your dreidel spinning.
The second floor of the Museum will be open so guests can check out the exhibitions "An Artist Remembers: Hanukkah Lamps Selected by Maurice Sendak" and "The Snowy Day and the Art of Ezra Jack Keats".
Tickets for CHERYL Does CHANUKAH are $12 in advance; $15 at the door. Visit http://www.thejewishmuseum.org/TheWindUp to purchase online tickets. For additional information, call 212.423.3337.