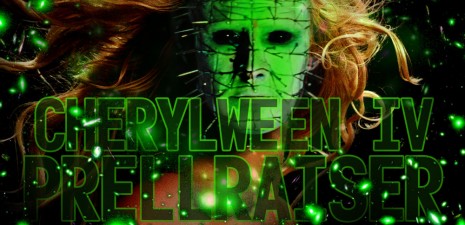 October 29, 2011 / 12am to 4am / The Bell House / Brooklyn, NY
Eyebrow threading, vajazzling, anal bleaching, urine face wash, lip venom, rib removal, Latisse, permanent makeup, Henna n' Placenta, Brazilian waxes, fit-flops, Rejuvenique, sunperms.
That's right, it's time for CHERYLWEEN IV!!!!!!!!!!!!!!!!!!!!!!!!!!!!!!!!!!!
This year we're encouraging you to look your best by looking your worst. Think BEAUTY PRODUCTS and HORROR MOVIES. This is PRELLRAISER. (Get it? Prell shampoo and Hellraiser. Duh)
Need costume inspiration? How about: Puppet Master Cleanse, Aveenosferatu, Oil of O'Child's pLay, Johnson & Jason, Burt's Killer Bees, The Blistexorcist, Rosemary's Baby Powder, Candyman-icures, Queen (Helene) of the Damned.
DJ Nick (CHERYL Resident DJ) and DJ Rok One (Black Russian / Plant Music) spin an amazing mix of electro, new wave, italo and disco. Because you're worth it.
JOIN US in the front room at 11PM for painfully gorgeous beauty treatments by the REAL PINHEAD. Party in the big room starts at MIDNIGHT.
It's our biggest CHERYL of the year! We are coating the dance floor with Prell and committing mass beautification.
TICKET INFO: $8 in advance/$12 at the door.
Tickets are available for purchase before the event here:
http://www.brownpapertickets.com/event/205153
We strongly encourage you to buy your ticket in advance as there were long lines last year.
$8 advance purchase (all online fees included) guarantees you entry. A limited amount of $12 tickets may be released at the door. Subject to availability, tickets will be available online until 6pm the day of the event.