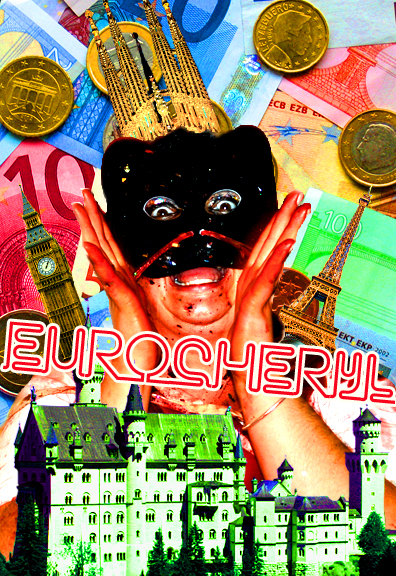 This winter, CHERYL invites you on an Aqua Venga Barbie Boys journey to the land across The Pond. Think mesh jumpers, bad mushroom trips, mayonnaise, combat boots, chain-smoking, and stroopwafels.
Wake up at 23:00 to adorn your magenta spiked bob with clip-on dreads, reapply another layer of fake tanner, and slide your smooth orange skin in your sleekest A/X plastic slacks. The CHERYLs will put on our square-toed leather trainers and rendezvous with you at the Lycra Warehouse. Change your quarters into Euros for the Gaulouise-cigarette machine and meet Sven and Gerschlunka beneath the VJ booth for some shots of Unicum.
What does this all mean? It's EUROCHERYL! We've gassed up our motorboat, patched our life vests, packed four oil drums filled with fake blood, and we're ready to set sail across the Atlantic. That's right, we're taking CHERYL on tour, and we're throwing parties all over FUCKING EUROPE this coming January/February. FUCK! We're kicking off our tour (where else?) in South Brooklyn celebrating our collective cultural club heritage on Saturday, January 8, 2011 at the Bell House, before we leave a trail of glitter, blood and hair across several foreign countries.
Dress like your favorite European country, a hung-over trust-fund brat from Milan having brunch, HRM QE2, Heidi, Run Lola Run, or mayonnaise! INDOOR SUNGLASSES, BEEFEATER HATS, and GONDOLAS are required for entry.
DJ DSO and DJ Mayonnaise spin an eclectic mix of disco, electro and new wave that will make you wonder why your ancestors ever left the mother continent. ASSUMING YOU'RE ALL WHITE.
Saturday, January 8, 2011
11pm to 4am
The Bell House
149 7th Street (btw 2nd & 3rd Ave) Brooklyn
$10 cover goes towards producing future CHERYL parties, events, tours and videos
Still confused? This should HELP: Chunnel Capris; Teddy Boys; Bono shades; Camel toes; Football club scarves; Hooligans; Ibiza; FASHION; Nijmegen; Square faced rats; Valentino; unabashed displays of LUXURY; Mayonnaise Salads; Leather T-shirts; Economic Collapse; Sleek engineering; Sprockets; Black turtlenecks; The 1990s; DJ Bobo; Chumbawumba; Fries with mayo in a cone; Video DJs and indigenous white people.