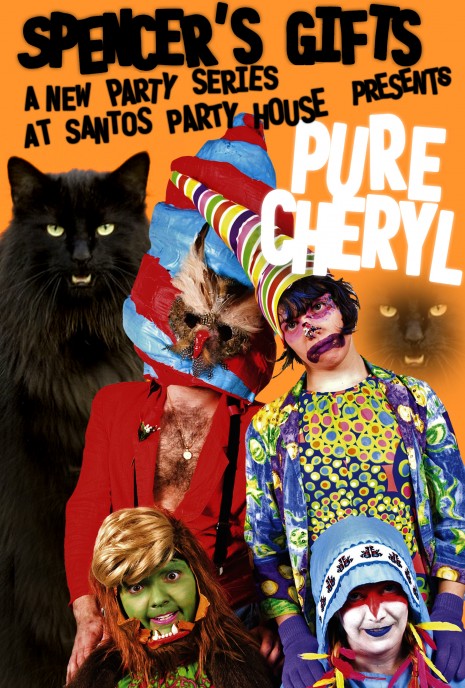 PURE CHERYL: A NEW YOU.
Cover yourself in hair extensions. Cry tears of fake blood. Primp your glitter. Light your shoulder pads on fire.
THIS IS SERIOUS.
Welcome to the world of CHERYL: The Dance Party That Will Ruin Your Life. Founded in 2008 as NYC's only cat-themed disco bloodbath, CHERYL has since been inciting participatory dance floor suicide around the globe. We now invite you to get back to basics with us and as we bring you the VERY BEST of our arsenal downstairs at SANTOS. Think sunperms, FRESHMAGICK™, cat people, Judith Light, ice cream owls, malaria clowns, Peruvian princesses, fashion sasquatches, ham jazzers, steamyapricotjazzcastles, peach skin, child skin, child bunz, diaper buttz, DANCE FLOOR ANNIHILATION and CELEBRATION. Thrash in a corner, lose your wallet, pass out mid-makeout with a cat. MAKE IT HAPPEN. WE WILL LOVE YOU FOR IT.
DJ Nick (CHERYL Resident DJ)
DJ DSO (Hullabaloo and Mormon Church Dances)
Spencer's Gifts (a new party series) presents:
PURE CHERYL
Friday June 24, 2011
11pm to 4am
$10 cover all night