POPRALLY PRESENTS
CHERYL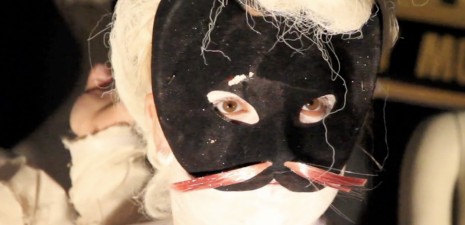 March 10, 2012
9:00 p.m. -12:00 a.m.
THE MUSEUM OF MODERN ART
VIDEO PROMO HERE
In celebration of MoMA's Cindy Sherman retrospective, PopRally invites you to an interactive dance party hosted by the artist collective CHERYL. CHERYL will create an immersive experience inspired by ideas of transformation, celebrity, and artifice, themes crucial to Sherman's work. Guests will have the opportunity to engage in this unique group metamorphosis either as direct participant or captivated spectator.
CHERYL is a four-member, semi-anonymous, often cat-masked artist collective based in Brooklyn, New York, known for its video art, museum installations, performances and over-the-top happenings. Through themes ranging from topical to bizarre, CHERYL revels in the joyous power of dance-induced psychosis/euphoria.
Cindy Sherman (American, b. 1954) is widely recognized as one of the most important and influential artists in contemporary art. Bringing together more than 170 photographs, this retrospective survey traces the artist's career from the mid 1970s to the present and will explore dominant themes throughout Sherman's career, including artifice and fiction; cinema and performance; horror and the grotesque; myth, carnival, and fairy tale; and gender and class identity.
Admission includes an exclusive exhibition viewing and a cocktail reception.
TICKETS ($15 in advance, $18 at the door) are available online at this link
You must be twenty-one or older to attend this event.
PopRally is supported in part by The Friends of Education of The Museum of Modern Art.
Special thanks to Sud de France Wines. Beer for this event has been provided by Brooklyn Brewery.
Related links:
Cindy Sherman (http://www.moma.org/visit/calendar/exhibitions/1170)
PopRally (www.moma.org/poprally)