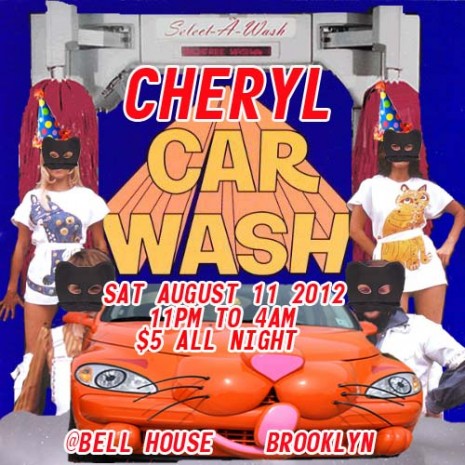 CHERYL'S 4TH BIRTHDAY PARTY IS AT THE CAR WASH
(aka The Bell House)
Holy SHIT. We are four. How did it happen?! What better way to spend the day than by driving our FUCKING REAL LIFE PARTY VAN through assorted local car washes, getting it super-shiny-waxy-clean, and then parking it on the dance floor of the BELL HOUSE, where we will blast SANDSTORM nonstop and LOSE OUR MINDS, with all of you amazing people that we love so much.
All we need is our van, some mega-staxxx, an accidental foam party, and ALL OF YOU PEOPLE. Feel free to dress like those fuzzy car wash roller things. Or perhaps that heavy hangy curtain that drapes down and slides all over the place. Or a leather interior with cigarette burns. Or like someone from the 1970's blaxploitation classic "Car Wash." Or even a renegade squeegee guy with a pail of dirty water. It's up to you. Whatever you wanna do, we are here for you.
Saturday Aug 11
11pm – 4am
The Bell House
149 7th St (btw 2nd and 3rd Aves) BROOKLYN
Admission: $5 ($1 for every year plus $1 for good luck)
Featuring a CHERYL FRENZ DJ LINEUP PUMPING HIGH-LEVEL INSANITY YOU CAN'T DENY:
DJ Riv (Off With Their Heads, Islington Mill, UK)
DJ DSO (CHERYL, Owl)
FAKE MONEY (Friends and Lovers)
DJ LEGENDARY BISHOP (Chess, CHERYL)
DJ NICK (CHERYL resident DJ)
PRE PARTY VAN UPDATES LIVE on our Twitter @CHERYLDANCE) + Facebook
5pm near Morgan L subway
6pm near Lorimer L/G subway
7pm near Brooklyn Bridge Park (A/C/F/2/3 trains nearby)
8pm near Brooklyn Museum
10:30pm OFFICIAL VAN CHRISTENING within Bell House vicinity
11pm       BIRTHDAY PARTY STARTS AT BELL HOUSE