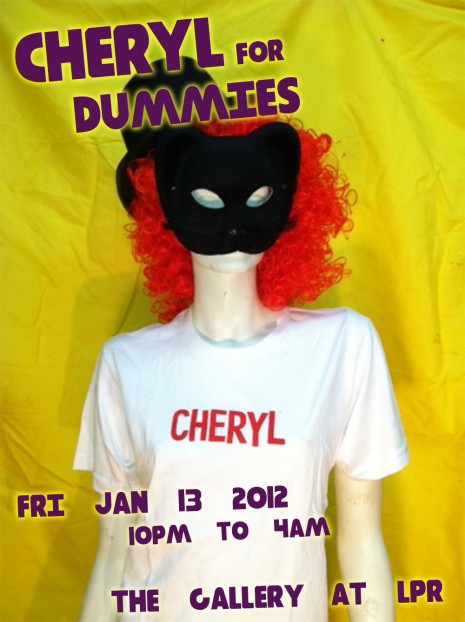 How does one learn how to dance? How does one "make it" in New York? What are the secrets to achieving fame, success and sexual satisfaction? Is it socially acceptable to use baby wipes as an adult? Why is CHERYL called CHERYL? What should I have for lunch? When is it ok to wear sweatpants to work?
The answers to these questions and more will be revealed at CHERYL for DUMMIES.
Customer Testimonial:
"Dancing always seemed impossible to me – I'd be lucky to get out on the floor at all, and no one understood my wild thrashing – basically, unless someone really loved me, they probably wouldn't dance with me for more than 2 minutes. Until now! With CHERYL for DUMMIES, all that has changed. I now can whip out the Perocolator, the Roger Rabbit, and the Cabbage Patch with ease. I can't say enough about the handy tips on HOW TO BE ALIVE that CHERYL includes, I've found them extremely useful with other aspects of my life as well. I'm finding that there is great peace of mind in dancing like you are about to DIE. Thank you CHERYL for RUINING MY LIFE!"
– Terri G
Friday January 13, we're hosting a FREE dance party at Le Poisson Rouge in the gallery, complete with participary video shoot. Come drink, dance, and get on camera with us. WE NEED YOU. Costume inspiration = Mannequins. Crash Test Dummies – the actual objects, the ad campaign, the band.
DJ Nick (CHERYL resident DJ) and DJ Stacher aka Stacheroni aka James Mulry will be spinning a mix of electro, new wave, italo and disco that will make you say HMMM and be all like, DUH.
CHERYL for DUMMIES
FRIDAY 1.13.12
FREE aka NO COVER
10pm till 4am – 21+
$5 Well Drinks and Select Beers 10p-11p