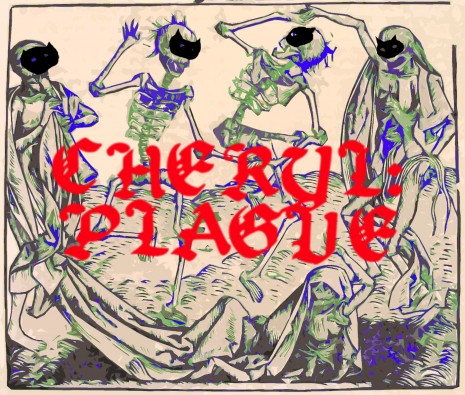 WATCH THE PROMO VIDEO NOW: https://vimeo.com/43182757
And check out the facebook event page here
Back in the year 1345, things were pretty different. They didn't have doo-dads like iPads or automobiles, or even cellular telephones. It was a simpler time. All you needed was a little stick-to-it-iveness, a smidgen o' elbow grease, and some good old-fashioned plague.
People didn't need medicine or hospitals in those days. No sir. The moment your fingers turned black and you began to vomit blood, you'd just eat a bit of gruel and sit in front of the fire, hoping for the best. And if things didn't work out, you'd die. And that was okay. They didn't have hearses or fancy shmancy funeral homes. Nope; they'd take your body, plop it on down in a wheelbarrow, and bring it to the edge of town. And that was that. People didn't live to be 80 or 90 years old. You were lucky if you made it to the age of five. Even luckier if you ever heard music or ate a cookie or learned to breathe.
CHERYL believes in the core values of the plague era. When big government and the special interests have taken over New York, it's good to know that someone's got their face in a history book (if you pull the book down a bit, you'll see their nose is rotted away).
Need costume inspiration?
Think: Oriental Rat Fleas, Leper Print, Wheelbarrows, Crows, Pandemic Ponchos, Dropsy Daisy Dukes, Bubo Bandanas, Skeletor and Susan Boil.
DJ Nick (CHERYL resident DJ) and DJ Rok One (Black Russian, Plant Music) spin a mix of pandemic-themed dance-floor classics all night long
CHERYL: PLAGUE
Saturday, June 16, 2012
11pm-4am
50 cents before midnight, $10 after (this is no joke)