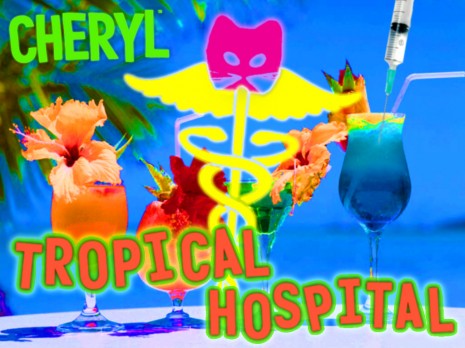 Watch the CHERYL: TROPICAL HOSPITAL video
HERE
!
Feeling depressed? Out of sorts? Life got you down?We've got a solution for you. It doesn't involve therapy or pills or any of that nonsense.
We're talking about a "permanent vacation solution."™
Come on down to Woodhull Hospital, and meet the one, the only, the legendary Dr. Bouillabaisse.  After only a few hours with the doctor, you'll be well on your way a mellower, happier life. No recovery time! No money down! Walk-ins welcome!
What's the catch? See that's the problem – you've got an anxiety disorder. Always wondering what the catch is. Just trust the doctor and you'll never worry again.
Dr. Bouillabaisse uses a patented method of tropical-based healing. His non-FDA-approved surgical methods have been used for years, transforming patients from panic-stricken worrywarts into sedentary beach gnomes.
What are you waiting for? Your vacation starts the moment you hit the operating table.
DJs Nick (CHERYL resident DJ, NYC), Colby B, and Pink Lightning (STAY GOLD, SF) spin a mix of Pina Colada-core and Surgical Trance.
http://www.soundcloud.com/colby_b
http://soundcloud.com/pinklightning
Need costume inspiration? Think Intravenous Margaritas.
RSVP now on facebook