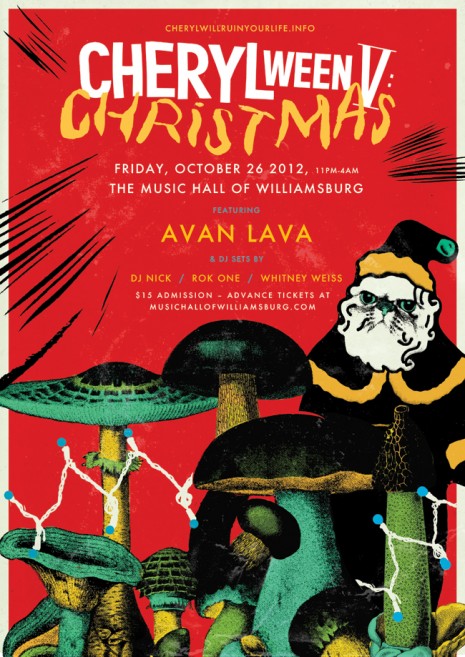 WATCH THE VIDEO HERE!
BUY YOUR TIX HERE!
RSVP to the facebook event page for CHERYLWEEN V: CHRISTMAS here.
This October, CHERYL invites you to question everything you've ever learned about anything ever. Prepare for what might possibly be CHERYL's most ambitious theme yet:
CHERYLWEEN V: CHRISTMAS
The dark history of Christmas. The true face of Santa.
Drugs. Sex. Shamans.
Join us on Friday October 26 at the Music Hall of Williamsburg
with guest artist AVAN LAVA!
DJ sets by:
Whitney Weiss (Dengue Dancing – Buenos Aires)
Rok One (Black Russian, Plant Music)
and
CHERYL resident DJ Nick
Special appearance by Mrs. Shuffleboots, the ancient yuletide CHERYL.
CHERYL is New York's premiere cat-themed disco bloodbath.
We are the dance party that will ruin your life.
cherylwillruinyourlife.info
AVAN LAVA
AVAN LAVA is New York City's freshest Super-Pop act to come out since Madonna.
Notorious for their banging beats, laser shows, choreographed sequences, and unmatched energy, the group explodes in your face.
"We've never had the pleasure of witnessing such a fun band!" – KEXP
"Disco future heaven" – Swizzlestick
"Critic's Pick" – TimeOut NY
http://flavors.me/avanlava
http://www.facebook.com/AVANLAVA
Friday October 26, 2012
11pm to 4am
The Music Hall of Williamsburg
66 N 6th St, Brooklyn
Tickets available for $15 online here or or at the Mercury Lounge on Houston St. for $15 cash with no Ticketmaster fee.