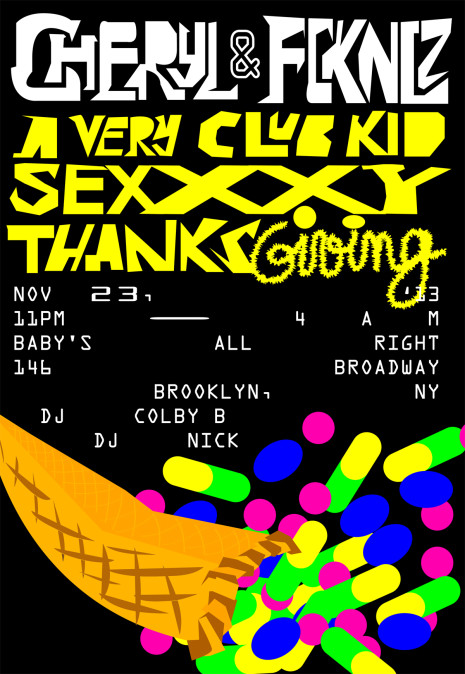 As if your in-laws were still speaking with you…
You might as well slip on your platform pumpkins, PVC apron, and get to work on that ketamine casserole.
Dress as your favorite club kid side dish! Brussels sprout bonnets with pancetta visors. Bondage pilgrims. Creamed corn evening wear. Candied yam epaulettes. Whipped cream facial hair. Deviled egg contact lenses and gravy technicians. Cranberry is the color of the season.
INDULGE IN THE BOUNTY OF OUR NATION.
DJ Colby B spinning abandoned house, tryptophantech and Plymouth rock
and DJ Nick – CHERYL Resident DJ / life enthusiast
Featuring:
A Very Club Kid Buffet
The Worst Macy's Thanksgiving Parade Accidents
Half-time Performance by Debbie D (Avenue D)
A VERY CLUB KID SEXXXY THANKSGIVING!
Saturday, November 23, 2013 – 11pm to 4am – $10 tix @ the door
BABY'S ALL RIGHT – 146 Broadway, Brooklyn, NY 11211
RSVP on facebook HERE