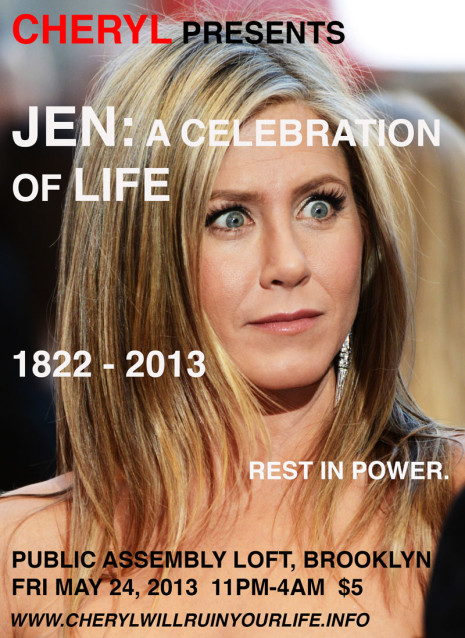 LOS ANGELES, CA / Friday May 24, 2013 8:01 am EDT
(REUTERS) – Jennifer Aniston, famed actress from Leprechaun, and popular NBC sitcom Friends, was found dead in her home this morning.
Aniston, 97, died of natural causes, surrounded by her most beloved issues of People Magazine, her publicist has announced.
A preliminary autopsy reveals that Aniston did not have a uterus, ovaries, breasts, and, perhaps most intriguing, a belly button. Instead, the area where her reproductive organs would have been was filled with dozens of alternate versions of her own nose.
Since the time of her death early this morning at approximately 4:03 am, the Los Angeles County Coroner's Office reports that her corpse has begun sprouting new strands of highlighted hair, curling around the cadaver's face in the style of "The Rachel" cut popularized by Chris McMillan in 1994.
McMillan could not be reached for comment, but sources tell us that he was last seen at the foot of Aniston's bed with a flat-iron and a copy of Mein Kampf.
DJ sets by DJ Whitney Weiss and CHERYL Resident DJ Nick
$5 all night
Public Assembly Loft
N 6th St, Brooklyn