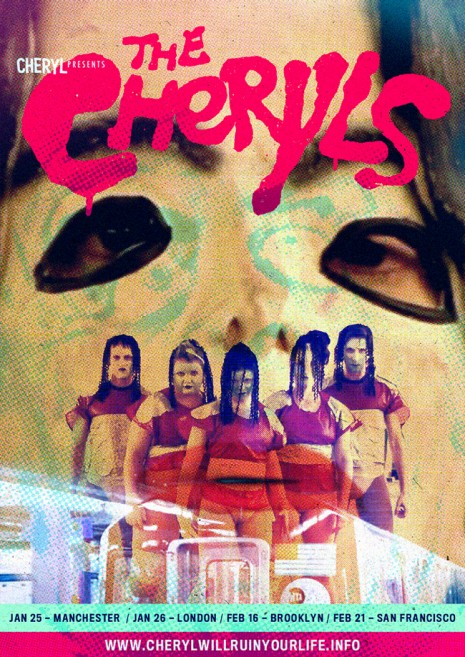 THE CHERYLS TOUR 2013
View the tour video HERE!
PARTY DATES:
Friday, January 25 at Islington Mill, Salford, UK
Saturday, January 26 at The Shacklewell Arms, London, UK
Saturday, February 16 at The Bell House, Brooklyn, NY
Thursday February 21 at The Asian Art Museum, San Francisco, CA
Usually gangs don't fly across the ocean or strategically book nightclubs as arenas for confronting their rivals. But CHERYL is no ordinary gang. CHERYL is an organized band of party fanatics and turf defenders from New York City that has a BIG ISSUE with the way you've been doing business around town. So we're preparing for a massive disco KERFUFFLE with you and your crew.
Come with your posse. Roll deep. And be prepared to fight to the death with your most insane moves until no one is left standing on the dance floor.
Need costume inspiration? Think greasy. Sweaty. Subterranean. Gritty. Metro transit pleather pop-star. Overalls and rollerskates. Togas and golf clubs. Gold chains and silk bathrobes. Neighborhood mascots. A menacing band of mimes. Bad. Beat it. Bubbles.