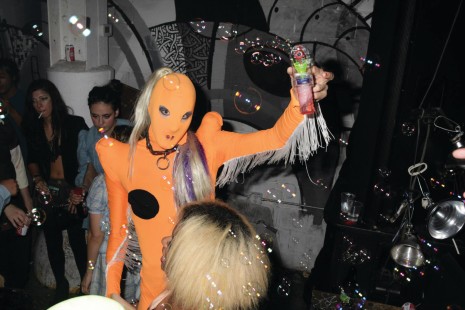 Launched in 2011, the Museum of Art and Design's (MAD) signature program THE FUN Fellowship in the Social Practice of Nightlife has championed NYC artists working in nightlife. Elevating this undersupported practice through individual cash awards and logistical support, THE FUN Fellowship not only gives these artists the opportunity to develop their own practices, but also seeks to raise awareness and spark dialogue around nightlife as an art form.
Marking the third anniversary of this innovative program, MAD is pleased to present THE FUN Conference on Nightlife as Social Practice from November 8-10th. Occurring over the course of a weekend, the conference explores the growing dialogue around participatory, social and collaborative arts practices and their relation to nightlife.
Presented in tandem with the publication of the book THE FUN: The Social Practice of Nightlife in NYC, THE FUN Conference gathers a variety of voices in nightlife through panel discussions, lectures and special projects that explore the intersection and positioning of nightlife in relation to social class, New York City, other social practices and the fine arts.
CHERYL was granted THE FUN Fellowship in 2012 and has been asked to participate in the conference. Join us!
Tickets are available per panel, or as a full conference pass which grants access to all panels and to the keynote address.
Click here to purchase a full conference pass