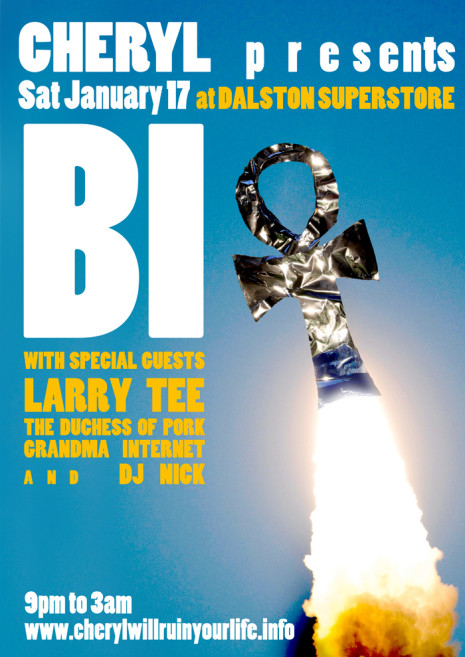 Hey London, you're BI.

Official party video HERE:
https://vimeo.com/109040524

It's the 90s. You're into space exploration. And you're BI. 

Dave Navarro, Margaret Cho
DiFranco and Garofalo
Jason Priestley, Luke Perry
Take an E at the foam party

R Kelly, Mister Clean
Both such bossy bottom queens
Kimmy Gibbler, Rachel's hair
Dana Sculley, dance on air
They had condoms, they had boobs
Dennis Rodman's frosted pubes
Cyber me this afternoon
Baby tees, we love you.
Blossom's watching Home Alone
Fax me if you wanna bone
Tell your family, tell your friends
We're here, we're queer, it all depends…
BI, BI, BI, BI
Featuring:
LARRY TEE
DUCHESS OF PORK
DJ Nick (CHERYL Resident)
DJ Grandma Internet (CHERYL Resident)
January 17, 2015
9pm to 3am
Dalston Superstore
117 Kingsland High St
E8 2PB London, UK
Facebook event page HERE