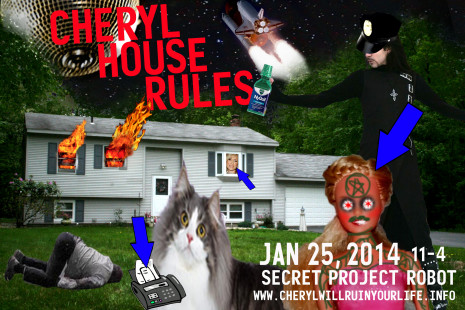 WATCH THE FUCKING VIDEO NOW HERE
VHS DUNGEON.
CARPETED PARADISE.
SPLIT-LEVEL HQ.
ASTROTURF BACKYARD.
1950s ABORTION CLINIC.
CHERYL HOUSE RULES.
Toxic Kool aid.
Spin the bottle.
Wigs and wall art.
Birthday bird-food.
April The Sith Lord Juggalo.
Trauma.
No Virgos.
No Drama.
No Babies.
Must Watch Sister Act 2 on Loop All Night.
Your Butt is Made of Tambourines.
CHERYL HOUSE RULES.
Saturday January 25, 2014
11pm to 4am
Secret Project Robot, Brooklyn, NY
$5 before midnight, $10 after
Opening sets by DJ GRANDMA INTERNET and DJ MODICUM OF DECORUM
Headlining:
DJs James Mulry and CHERYL Resident DJ Nick
YES.