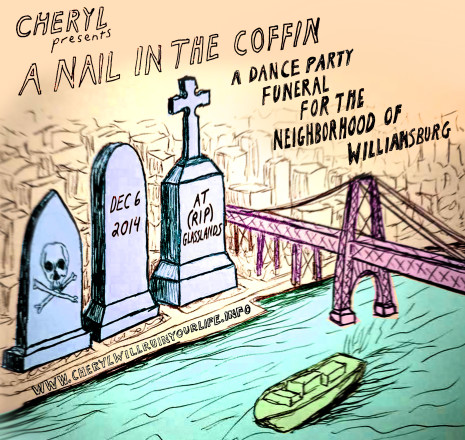 A Dance Party Funeral for the neighborhood of Willamsburg.
Come mourn the end of era with us before Glasslands closes its doors in Williamsburg forever.
In lieu of flowers, a $10 cover will be accepted at the door on behalf of CHERYL.
11:30pm-4am calling hours at Glasslands Gallery, 289 Kent Ave, Brooklyn.
Need costume inspiration? Just Accept Death.
Think FUNeral, Victorian Mourning Merkins, Starbucks Baristas, All Black Everything, Whole Foods Suttee, Goth Immigrants, Winking Widows, Vintage Sorrow, Mast Brothers Conquistadors, Asian Tapas, and Scrooge McDuck.
Help us celebrate the former vibrant life of Williamsburg and send us your favorite memory in text or photo form. Stories / Pictures / Memories — we want to collect them all and celebrate together at CHERYL: Nail in the Coffin. Please send information directly to our attention at cherylwillruinyourlife@gmail.com
DJ Nick
DJ Grandma Internet
DJ Kripplebush
Saturday December 6, 2014
11:30pm to 4am
$10 Cover
Glasslands (RIP)
289 Kent Ave, Brooklyn, NY 11211
www.cherylwillruinyourlife.info