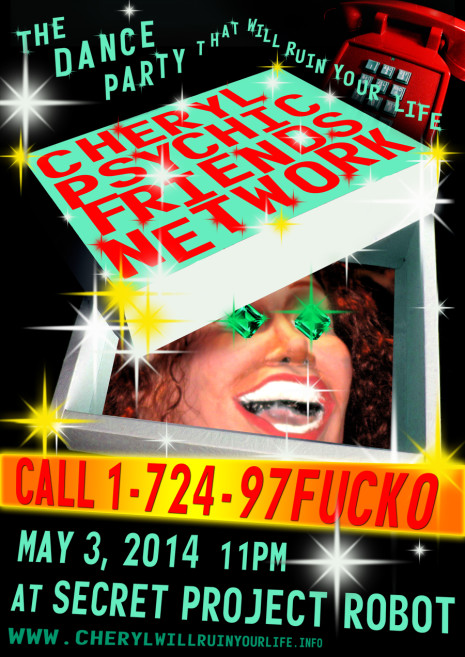 WATCH THE VIDEO HERE NOW!
Red telephones.
Trust in strangers.
A voice on the other end.
A psychic (tele)vision.
BEING, BECOMING, and DIONNE WARWICKING
We invite you to join us for a night of LANDLINE CONFESSIONALS, SUPER SIGHT, and CLAIRAUDIENCE. DJ Lloydski (Tiki Disco), DJ Nick (CHERYL resident DJ), and DJ Lady DM spin nu-disco, psychic electro, and brain house that will enable you to communicate with your Future Past Self in a parallel dance floor dimension.
Learn how to get the results that you want. Licensed CHERYL Clairvoyants offer FREE fortune-telling career counseling sessions all night long. The power of autosuggestion compels you, call 1-724-97FUCK0.
Need costume inspiration? Incoming VISION transmission: A Libra Drop-Crotch, Aries in 18-Hour Sheer Energy Control Top L'eggs, Virgos in turtlenecks, Taurian Tendrils, Scorpio Jockstraps, a lone Leo in a Dickie, Capricorn Clip-Ons, Gemini Rompers, Aquarius Lego-Lady hair, Pisces Pallazzo Pants paired with Cancer Kitten-heels, and a Sagittarius color scheme. Because you are worth it.
Saturday May 3, 2014
11pm – 4am
$5 before midnight, $10 after
Secret Project Robot
389 Melrose Street, Brooklyn, NY 11237


RSVP on facebook HERE