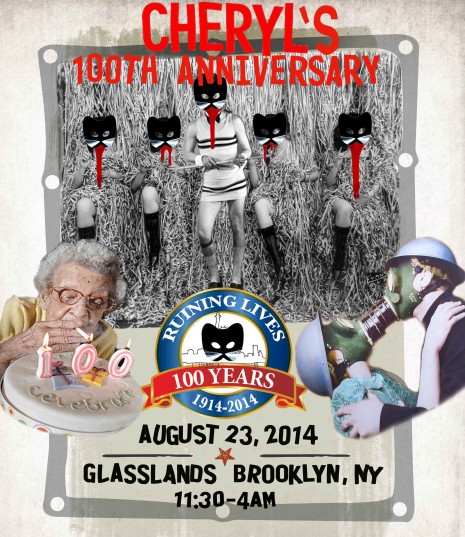 WATCH THE VIDEO HERE.
1914 – The start of World War I, the opening of the Cape Cod Canal, and the first ever CHERYL party.
Back then, all we had was a piano, a stray cat, and a bottle of Coca Cola. Through the years, we've grown to become the USA's #1 dance event for thirtysomethings who have never had sexual contact with other people. Over this past century, we've been on the front lines of it all, with a tube of fake blood and a couple of shoulder pads to lead our way. And now it's your chance to be there as we celebrate the start of our next 100 years! Lucky us.
BE at this event, celebrating to 100 years of self destruction that will continue to do something, or nothing, probably for at least another 6 years or something. Duh. CHERYL is a party, a person, a place, a language, the reason we know you, a vestige, the future, and a style of frosted pubes.
SPECIAL GUEST DJ Whitney Weiss
DJ Nick (CHERYL Resident DJ)
Cover $10 all night
at Glasslands
289 Kent Ave
Brooklyn, NY
August 23, 2014
11:30pm to 4am
Facebook event page HERE