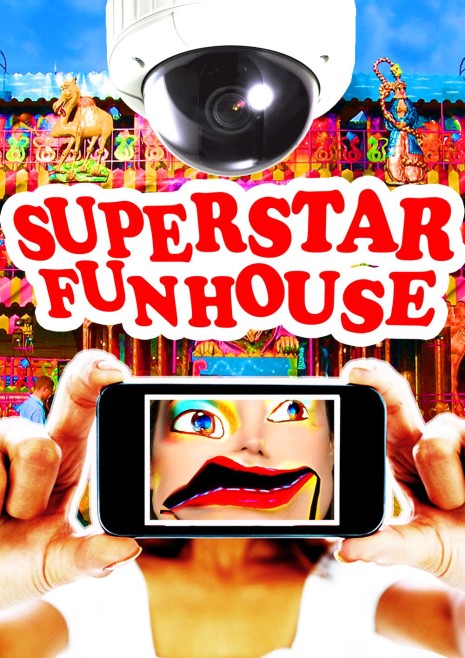 CHERYL / FAT OUT / GUTS FOR GARTERS / KHOM / PRESENT …..
SUPERSTAR FUNHOUSE – NYE DANCE PARTY @ ISLINGTON MILL
TIX AVAILABLE HERE
£7 SUPER EARLY BIRD – SOLD OUT
£10 EARLY BIRD
£15 ADV
SUPERSTAR FUN HOUSE. A 3 room dance party where Money success fame and glamour all await you. Enjoy a meteoric rise to stardom, greet your public, and then burn out in blaze of desperate glory all under the watchful eye of the greedy vicious press.
DJ sets from Stop Making Sense / DJ Nick / Sarah Van Buren / Thom Docking (Drunk at Vogue) Andy Bailey (Pumping Iron) / CNVT Traxxx / Fred

Special public appearance from author and page three legend Trish Dee, as well as, Guts in their eyes Karaoke, Extreme Makeovers and your adoring fans all await you at the Superstar Funhouse.
Topical.
Meaningless.
Strangely addictive.
A festival of skin.
Competitive plastic surgery.
Incredibly small dogs.
Cameras in the toilet.
The world is waiting to discover YOU.
You are special, unique, beautiful, and INTERESTING.
You have SUPER FASCINATING things to say.
You are probably more important than other people.
You will definitely live FOREVER.
Actually… let's be honest. You're a GOD.
Can we photograph you while you eat?
Wait, can we make a TV show about your fingernails instead?
Why live your own life when you can live someone else's?
Let's broadcast EVERYTHING.
Actually – let's throw a New Year's Eve party and take 1000 selfies.
Maybe someone will see how good we look and make us rich and famous!
Facebook event page HERE