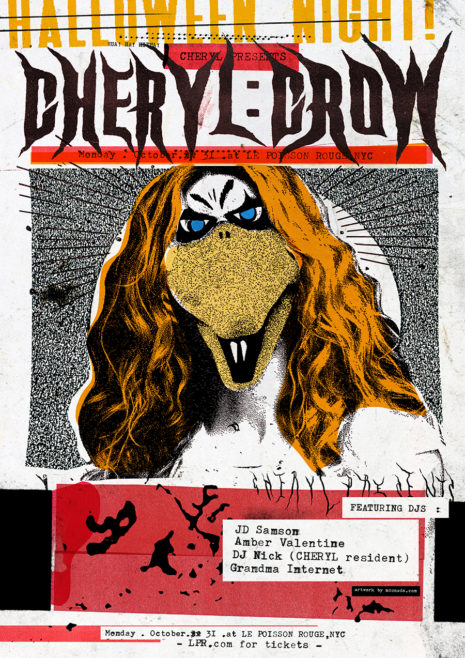 WATCH THE VIDEO NOW.
♬ All I wanna do is exact revenge on my most mortal enemies. I got a feeling, I'm not the only one…♬
Join CHERYL (artist collective) on Halloween night for a celebration of celebrity failure, resurrected goth super heroes, birds, and public transportation wormholes. No, this is not a Sheryl Crow concert.
Need costume inspiration? Think John Poppers, Big Bird's moment of angst, bus terminal transformations, Lamps Armstrong, blood transfusions, Woodstock '94/'99, and boring hair.
So check out the Halloween parade, and then head around the corner to (Le) Poisson Rouge – it's time for CHERYL: CROW, the ultimate Halloween dance party.
Featuring: 
JD Samson (twitter / facebook / instagram)
Amber Valentine (facebook / instagram)
DJ Nick (CHERYL resident)
DJ Grandma Internet (CHERYL resident)
Monday October 31, 2016, from 9pm to 2am
Le Poisson Rouge
158 Bleecker St, New York, NY 10012
Tickets via lpr.com
Facebook event page HERE