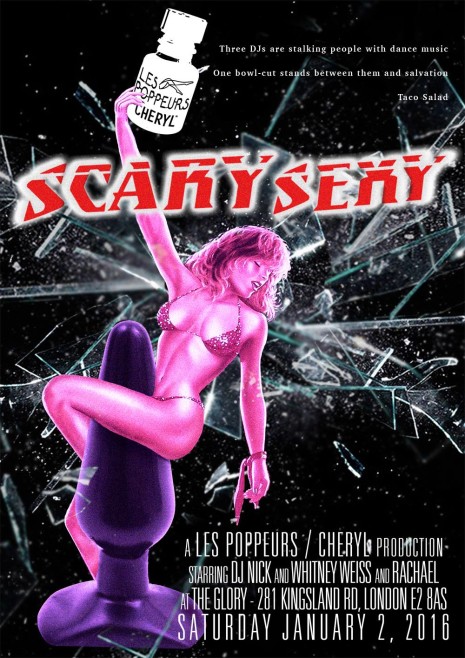 It's 2016. You're finally awake, head throbbing with vague memories of prosecco and sweater vests, the guilt of failed New Year's Resolutions already flooding your serotonin-deprived brain. Have you been home? Where are your keys? Hazy images flash with VHS-like precision in your mind. A swim through icy waters. A memory of you, smirking as you dig your nails into Michael Douglas' supple back flesh – you paw at your hair, which has morphed into some sort of high-fashion bowl cut, timeless and plucky, just like those shoulder pads sewn into your clothes. Wait…what?
CHERYL and LES POPPEURS present…
SCARY SEXY: An Erotic And Thrilling Post New Year's Hangover
If this party theme were a venn diagram, the common denominator in the middle would be "HÃWT MĘŠŚ!!!!!!!!"
Join us in channeling the sultry and complex emotions of the best erotic thrillers of the 1980s and 90s, or just acknowledge that it's only been 2016 for 48 hours and so far, your NYE PTSD has prevented you from anything remotely functional.
Starring…
DJ NICK (CHERYL/Artisanal Poppers/Meatball/NYC) who just threw the end-all-be-all of gay gay gay Halloween parties in a giant Masonic Temple in Brooklyn. His eclectic approach to lifting your spirits is matched only by his enthusiasm for the roller coaster of emotions that is Sleeping With The Enemy. Come for his music, stay to see if he found a way to squeeze the elder abuse scene into the party decor scheme.
WHITNEY WEISS (Paris/Berlin/Buenos Aires/Les Poppeurs/PATSY), who can take you there, wherever there may be, with her dazzling array of Italo, NRG, house, and sultry French and Italian ladies from the 70s. In addition to her internationally renowned abilities as a DJ, Whitney excels at acting as a magnet for Jennifer Jason Leigh impersonators.
and RACHAEL (Bristol/Les Poppeurs), whose satchel full of vinyl and only vinyl will contain a fair amount of spangly disco, the finest sleaze from decades gone by, and absolutely no bees procured to be placed into air vents.
Come as the sexy mess you'll inevitably be by January 2 OR the femme fatale*, creepy dude, or beige wall-to-wall carpet from your favorite erotic thriller!
Party themes to motivate you: jealousy, infernal rage, envy, obsession, self-destruction, spiral perms, yachting accidents and morality.
Costume ideas: ice picks, bowl cuts, platinum blonde pubes, opportunistic bisexuality, no underwear, no regrets, sexually stunted villains, whatever you were wearing on December 31 and haven't gotten around to removing from your body, OR a pair of those pajamas with the kangaroo pouch for your cat (preferably with an actual live cat inside the pouch).
And remember: Flesh seduces. Passion kills. CHERYL ruins (your life).
*Yes, Marky Mark in Fear counts
Saturday Jan 2, 2016
10pm
£5 cover
The Glory / 281 Kingsland Rd / E2 8AS London, UK
Facebook event page HERE