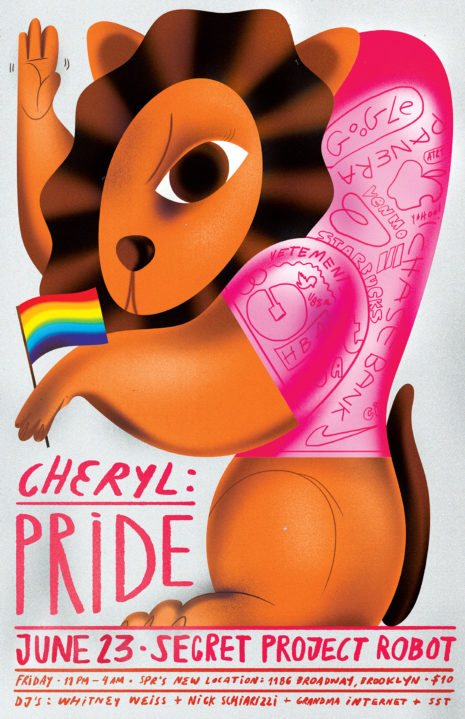 $ Earlybird tix available via this link.
There was a time when LGBT was edgy and hard and dangerous. Pride used to be punk. Then one day we woke up in a pile of rainbow-spangled Budweiser beach blankets and TD-Bank-sponsored buttplugs. But when did we start gluing Nike drawstring rave-packs to our backs and spending our life savings on HBA-brand concept culottes?
What like, actually happened to us? We used to wear colors, didn't we?
We at CHERYL believe that, like most things in life, we can gain perspective by looking at cats. Big cats. Lions. It's no coincidence that a pack of lions is called a "pride" – and lions AIN'T body fascists.
On June 23, we encourage you to subvert the power of the logo, channel some jungle cat spirits, and don your most vividly-hued GLADRAGS (meaning, if you show up in black/white/Adidas, we will paint you orange and permanently tattoo the Dunkin Donuts logo on your face, so that you can remember what it means to be a real person).
This is a party.
This is not a circuit party.
Join us for CHERYL: PRIDE at Secret Project Robot's brand new location in Bushwick.
DJs:
Whitney Weiss (Paris)
Nick Schiarizzi (NYC)
Grandma Internet (Hudson)
SST (Port Authority)
Friday June 23, 2017
11pm to 4am
$10 Cover
Secret Project Robot
1186 Broadway
Brooklyn, NY